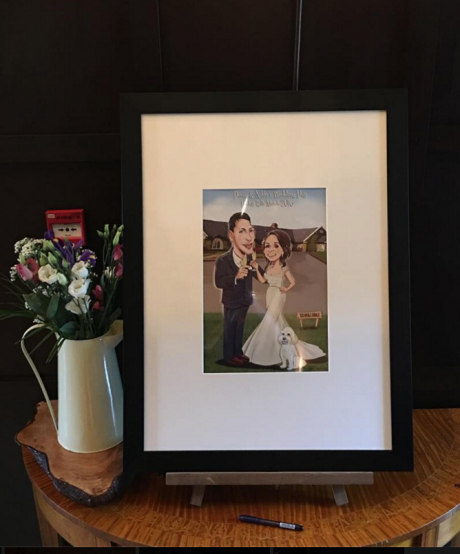 Wedding Guest Boards
NOW TAKING BOOKINGS FOR 2019/20 DUE TO POPULAR DEMAND I'VE EXTENDED THE 10% OFF OFFER UNTIL MARCH 15TH 2018. I'VE ALREADY VERY LIMITED SPACES FOR THE SUMMER MONTHS, SO PLEASE BOOK EARLY TO VOID DISAPPOINTMENT!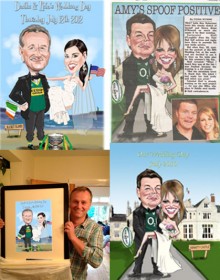 TO SEE THESE SAMPLES BELOW PLEASE CLICK ON FACEBOOK LINK
How much?
The guest board's are €395 with 10% off at the moment.
the cost includes a sturdy handmade frame, which now the glass and a protective screen to stop people de-facing it.
As you will see from my website, the framed guest board that I supply looks a lot more professional, and also makes it much nicer to display on your wedding day, and saves you getting expensive framing done after the wedding.
What if we want artwork only?
As lots of people live abroad and would still like to order artwork to get printed and framed where they live you can order artwork only for €350. You get a high resolution file delievered via email.
What if I don't want it framed?
If you'd prefer just the artwork and mount, this option is €350, however framing such a large picture can be very expensive.
Why order from me?
If you've never ordered a caricature - just a word of advice. Make sure that you do your research and decide on a reputable artist. Like everything in life you get what you pay for, so check out people's websites and make sure you like what you see.
Unfortunately nearly every day I receive emails and phone calls from people who weren't happy with the results from other artists and have to get it re-done at their own expense. I guarantee a perfect likeness every time and all caricatures can be as subtle or exaggerated as you like, you decide!
P.s All caricatures are done from photos which must be recent and of a high standard before I start a commission.
The picture on the day is covered by a clear acetate sheet which means if any of your guests decide to get creative with the artwork with a maker in their hands (trust me it happens all the time) it can be easliy removed.
The artwork can be also used for your Thank-you cards
How do we order?
Just drop me an email and I'll send you a booking form and all the details.
Can it be done from photo's?
Yes, all my caricatures are done from photo's which can be posted or emailed. Good quality recent photo's are best.
What if we want to add kids?
Children under 3 are €25 extra under 10 are €50 extra, over 10 are €75.
what if we want to add pets?
One pet can be included free of charge, any additional pets which costs €35
What size are they?
The image is a3 the frame size 86 x 61 cm so there's plenty of room for you guests to sign.