Looking to add the wow factor to your wedding.These personalized caricature invites are guaranteed to get your guests talking and excited about your big day! Include pets, cars, GAA jerseys, the options are endless and if you order before December 1st 2017 you get a free unframed guestboard like the one below or upgrade to a framed one for only €50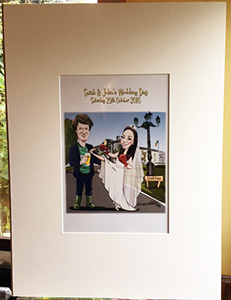 Why not turn your invite artwork into a fantastic guestboard for all your guests to sign.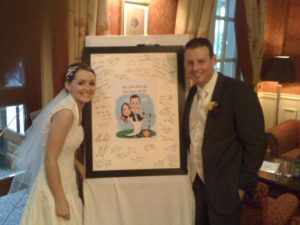 WECLCOME TO MY CARICATURE WEDDING INVITATIONS PAGE
Below you'll find costing and information on how to order your invites, including new lower costs for 2017/18. I also do various packages for couples who book me for both invites and wedding day caricature entertainment, please contact me with the date and venue for your wedding for more information.
TO EXPAND PANELS BELOW PLEASE CLICK ON THE BOXES BELOW
ARTWORK +TEXT+ PRINTING
If you want me to do everything from start to finish and you just collect the completed cards, the cost for artwork and design , text etc is €375 per couple
This price excludes the cost of the printing which is listed below. Printing is based on how many cards you want to order, so you must add the cost of the artwork to the printing costs to get your price for complete production.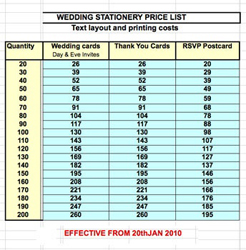 All cards are printed on high quality linen card, and include envelopes. The size of the day and evenings cards are 148 mm x 148
the thank you cards are slightly smaller and are 131mm x 87 mm.
Please email me to if you'd like a sample pack
If you have any question please don't hesitate to contact me.
When ordering cards, please remember that the amount of cards you require is usually half the amount of guests you are inviting, as most will be couples.
ARTWORK ONLY COST
If you want artwork only and will be doing your own text, printing etc, the cost is €350 and includes a high quality a3 print.
The artwork can also be used to make a unique and original guestboard.
ORDERING YOUR CARDS
To book just drop me an email and I'll send you a booking form and all the details you need. You then supply a few good quality recent photos which I then work from (posted or emailed) plus any ideas for clothes pose background etc,
the artwork is then emailed to you for approval.
This process continues until you are entirely happy with the result and before finally going to print.
DO YOU DO EVENING INVITATIONS?
WE CAN GET THEM DONE CHEAPER
Like everything in life you get what you pay for and in the case of caricatures this was never truer.
All my cards are done to an extremely high standard, which takes time, and I'm unwilling to sacrifice quality to compete with other artists.
Most people still tell me they're no more expensive than bows and ribbon type cards. Also they're the only invitations that people don't throw in the bin.
With 20 years experience I hope my work and reputation speaks for itself, I guarantee a perfect likeness every time and I work with you directly
through the whole process to make sure you're happy with the results.
My mix of hand drawn and digital techniques allow you complete freedom over the artwork to easily make changes to either yourselves or the backgrounds etc.
This is perfect for creating different evening invites, thank you cards, mass booklets etc.
WE ALSO WANT THE GUESTBOARD
If you want the artwork only option you can also get a handmade framed guestboard including glass for only €50.
WHAT IF WE WANT TO ADD KIDS
Children under 3 are €35 extra under 10 are €55 extra, over 10 are €75, there is no extra charge for pets etc.
SAVE THE DATE CARDS
I do save the dates cards, but if your'e going with the idea of the invites, using a caricature for the save the dates can ruin the surprise and impact when you do send them out. One option is to just use the heads that will be used for your main invite, in this case if no new artwork is required, all prices above will apply.
WHAT IF WE WANT TO ADD PETS?
One pet can be included free of charge, any additional pets which costs €25
CARD PRINTING PRICES, THESE EXCLUDE THE COST OF ARTWORK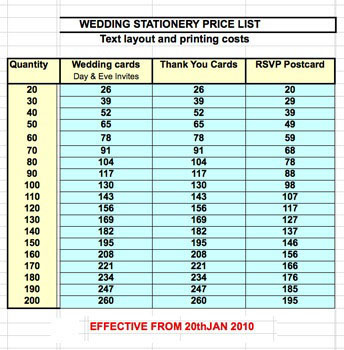 TESTIMONIALS
This is a typical email I receive from couples...
Its Helen and Trevor! Niall the reaction has been unreal! We posted them out on Thursday and we've been getting calls all weekend with people cracking up about them - and everyone is asking who did em too!! They're so good, truly, we're so delighted with them... thanks so much - if u need any rave reviews just ask!!
Helen & Trev
Just a quick mail to say the reaction to the invites was beyond all our expectations....people of all ages have said that they are the best they have ever received...different and fun! So thanks for all your patience and work.
Cheers Dee
Hi Niall, On behalf of myself and Kevin, I just want to say thank you so much for the invites - they really have exceeded our expectations - we are delighted with them.
Kind Regards, Lynda
We never expected such a great reaction, everyone wanted to know who did them and where we got the idea, they really are fantastic!
Thanks again Sandra and Jeff