ABOUT CARICATURES - NIALL O'LOUGHLIN
A Short Caricature History
Niall O'Loughlin was born in Dublin in 1970. Following graduation from Senior Technical College, Ballyfermot in 1989, Niall was quickly snapped up by "Sullivan Bluth Studios" where he worked on major films such as 'Teenage Mutant Ninja Turtles,' 'All Dogs Go To Heaven,' and 'Help I'm A Fish.'
Following promotion to Chief Animator at Brown Bag Films, Niall was responsible for the delightful animated characters in the highly acclaimed Oscar nominated series, 'Give Up Yer Aul Sins.'
Widely regarded as the No1 caricaturist in Ireland, Niall enjoys sell-out exhibitions and has appeared on numerous Radio and TV shows including the Saturday night and Late Late show and completed commissions for many well known celebrities from both Ireland and abroad.
Amy Huberman with the wedding caricature package for her wedding to Brian O'Driscoll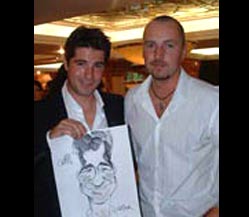 "I knew you'd pick on the nose"  Tv Presenter Craig Doyle
Comedian Jimmy Carr
"It looks like me, it really looks like me "
Louis Walsh.
"Am I really that good looking "
The legend Shane MacGowan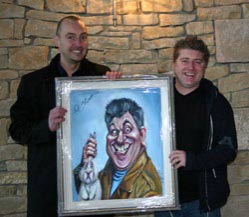 "You captured my manic look for sure!"
Comedian Pat Shortt
A cartoon created for famous Brazilian soccer player Pele
You got the crooked teeth and all, ye Bast**d"
Mark Fehily, Westlife
Brian O'Driscoll with his own personal caricature.
"You had a lot to work with"
Irish rugby captain Brian O Driscoll
Some Caricature Movies!
SATURDAY NIGHT SHOW with Brendan O'Connor
Some Caricature Movies!
SATURDAY NIGHT SHOW with Brendan O'Connor